Xpose UFO Truth is a sub-section of Project Orbwatch

Copyright ©Orbwatch (Registered CIPO #466351) - all rights reserved
ALL MATERIAL ON THIS SITE IS
PROTECTED BY REGISTERED COPYRIGHT
(Canadian Intellectual Property Office Reg #466351)
HOAXWATCHING - HOAX BUSTING
Updated:
Friday, 16-Jun-2017 19:24:25 EDT
CURRENT INVESTIGATION
Scott Felton's in-depth article (with images and video) on what is considered to be a very carefully orchestrated and long-standing hoax surrounding the Berwyn Mountains UFO incident.

Please click on the banner below to view the evidence:

HISTORY
Xpose UFO Truth originally set out as a hoax busting project in March 2009. That was precipitated by the infamous Torrington, Connecticut case (mentioned below.) However Xpose UFO Truth later branched out from only investigating hoaxes and became more blended with our original Project Orbwatch

A visit from the Italian astrophysicist Dr. Massimo Teodorani, Ph.D. had been planned for a period in July and August 2009 to carry out a field mission.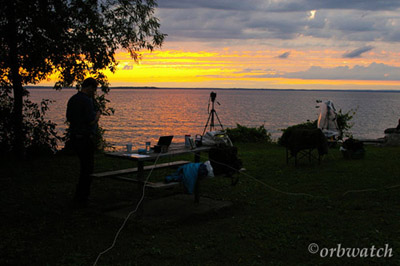 Two cameras and VLF/ELF receiver set up by Lake Simcoe
We were looking for places to do some surveillance other than here in Ontario. Connecticut was high on our list because of the history of sightings there, especially during the Hudson Valley "flap" in the 1980s. Sightings were still frequently being reported both to MUFON and NUFORC. We also considered New York state as it is just across Lake Ontario from us here in Ontario, Canada.

The preparatory work that was done for the field mission may be seen here:
Technical Research Work in Progress
Dr. Teodorani's final paper published on NARCAP may be seen here:
NARCAP Technical Report
Whilst I was amassing reports and looking through Connecticut sightings I came upon an event that had supposedly occurred on the night of 3rd March 2009. The saga of this event may be see here:
The Torrington, Connecticut UFO Case
This was a real tale of skulduggery. The description of the original "sighting" and the subsequent postings and comments in the Torrington Register Citizen online newpaper were fabricated using descriptions given by witnesses back in 1987 during the "flap." The wording was not even changed.

We advised the person who had published the article on UFO Digest that it was a hoax and he told Massimo and I to "not let the cat out of the bag." We never did quite figure out what he meant by that. Was it because he wanted us to keep quiet so that, maybe, the culprits would come forward? Or was it that he did not want us to advertise that this had been a complete fabrication and hoax?
These are some earlier investigations that we have worked on over the last 5 years. Regular field work continues to be carried out up here north and north west of Toronto.
Some of our earlier hoax-busting projects: