What struck me immediately on watching this simulated craft was the big red leading light. Where had I seen this before? On looking more closely it would appear that someone had created another "Atlixco." This could have been totally accidental, of course. But it IS interesting that this red ball ufo keeps cropping up all over the place!

Here is a crop and enlargement of the image taken from YouTube: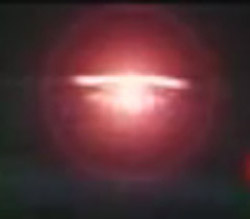 If one looks carefully at the red ball, it would seem that the familiar curved lights shape is in the mix. However, the TV show in NO WAY implied this to be real footage.

A SIMULATION - NOT A DECEPTION

Here is the "Torrington" event of 3rd March 2009 again:
...and here, the Atlixco event of 1991: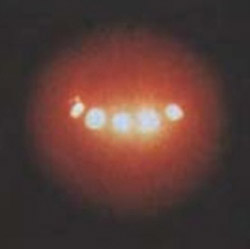 The good old standby Red Ball UFO!
Here is a
to show comparison.