Xpose UFO Truth is a sub-section of Project Orbwatch

Copyright © Orbwatch (Registered CIPO) - all rights reserved
A "saucer" or two?
North Shore, Lake Ontario
21st May 1997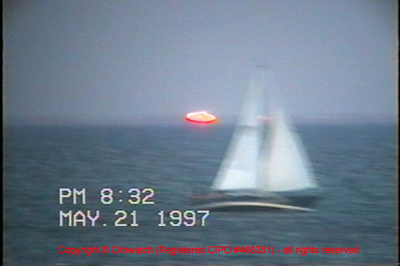 "This isn't actually a boat......
It looks like...ummmm.. a saucer"
The above quote is from the sound track of the video that I recorded on the evening of 21st May 1997. This was the second night upon which we had set up surveillance just east of the harbour in Oakville. On the night of the 20th the weather was very similar but I had only recorded these huge amber lights for a few moments whilst we were watching the orbs moving along the horizon.

(The strange rotating "lights" reappeared on the evening of the 22nd May 1997, but we did not see them thereafter.)

I don't recall saying the words at the time - 8.34 pm on 21st May 1997 - and only noticed the comment when I finally used decent headphones to listen to the commentary in 2008 - eleven years later!
Stills from Video

Unknowns

These images and video were taken only two months after we first saw the orbs descending into the waters of Lake Ontario. That first night was 22nd March 1997 as three of us were watching the northern sky and the comet Hale-Bopp. One of our party told us to turn around and look at what was happening over the lake! That night in March 1997 was our first experience with the orbs of Lake Ontario, and we still, to this day, are watching.
A selection of our later videos and images may be seen at:

PLEASE NOTE
The contents of this site including all video and images are my copyright (registered with CIPO) - see top of page.
Please refer to Legal and Copyright and CIPO information.

Please do not embed any of my videos on your own site and do not download my material and upload on to your own servers/channels.

This video material is hosted on paid-for servers.

If anyone wishes to use any material from Orbwatch or Xpose UFO Truth please contact us regarding permissions and use