We are presently analyzing UFO databases in order to verify both qualitatively and quantitatively how and if this source of information is useful or not to a scientific factorization of the issue. All this numerical material, which is demanding a non-stop precision work since three months, is constantly updated. This study will be published here as an extensive technical paper possibly in September 2009, as soon as we are confident enough that we have collected a sufficient amount of data and weighed as accurately as possible all the relevant variables therein.

Here we present some very essential information in order to introduce readers on that which we are presently doing and on the issues that readers will meet in the short-medium term on this website.

We have started by selecting possibly reliable cases using several databases concerning UFO sightings reported in three North-American areas: Ontario (Canada), New York State (USA), Connecticut (USA). So far at least 4000 data points have been used to build up about 100 Excel charts, where the data of the two States and one Province are cross-confronted. The study that we are presently carrying out is now at an advanced phase of preparation and it regards both temporal and spatial distribution of reported UFO events, a comparative study of the reported typology, correlation analyses and the search for possible correlation with geophysical and astronomical parameters. Search for correlation with the population number and the technological evolution of communication media is done as well.

A demonstrative sample of what we are doing at present.
Please click on image for full-size version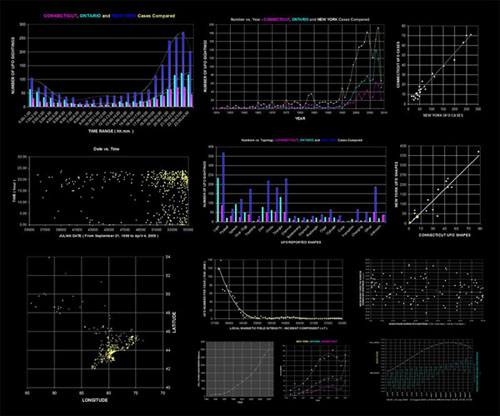 In order to furnish a short conceptual snapshot of what we are doing, we present a succinct list of the statistical and numerical studies that we have carried out so far:
| | |
| --- | --- |
| 1 | Number of UFO Cases vs. Time (overall and month by month,) Month and Year (overall and month by month); |
| 2 | Number of UFO Cases vs. Shape |
| 3 | Time and Duration vs. Julian Date |
| 4 | Low, medium and high-resolution Latitude-Longitude charts where UFO incidents were reported to occur |
| 5 | Town Population Number vs. Number of UFO Cases, and consequent statistical selection of the towns (of whatever size) that were intrinsically more involved by the phenomenon independently from population number |
| 6 | Identification of spatially clustered areas where the UFO phenomenon has been reported to occur. |
| 7 | Google Earth and World Wind geographic checks and exact localisation of all the spots where UFO cases have been spatially plotted |
| 8 | Correlation analyses (using both linear and polynomial fits) of all the plotted parameters for the 2 States and 1 Province |
| 9 | Correlation analysis between Moon phase and Moon height at the times of the sightings of structured objects |
| 10 | Correlation analysis between the Number of Yearly UFO Cases and the evolution of technology in communication systems (cell 'phones and Internet) |
| 11 | Correlation analysis between the Number of Yearly UFO Cases and the Local Geomagnetic Field Intensity, Solar Activity, Magnetic Anomaly Zones and Gravimetric Anomaly Zones |
| 12 | A study of incidence of UFO Cases with Astronomical Conjunctions |
| 13 | General post-processing data analysis and detailed critical discussion of results |
| 14 | Localization of the most important target areas and preparatory calculations aimed at executing instrumented missions on selected sites that might be involved by a more or less recurrent anomalous phenomenon. |
| 15 | Preparation of a sky-watching plan using specifically chosen instruments in order to attempt to identify, measure, and test the phenomenon that might be in case in sight |
| 16 | All this work has been preceded by an in-depth qualitative study of the most important and credible UFO cases, with a particular emphasis for cases that occurred in the Province of Ontario |
This ongoing research is being carried out by joining the expertise of qualitative investigative ufology with the skills of quantitative scientific data processing and analysis. We want to anticipate that, despite we take all the relevant witness data into account in order to prepare our tables and graphs, we are particularly interested in allegedly "geometrically structured" UFO cases and their possible spatial and temporal connection with apparently "plasma-like light balls". Our goal is not to follow fixed ideas of which we are in love, but to try to put together on a balance possibly true UFO cases, misinterpretations of natural and/or manmade phenomena, hoaxes, fakes and deceptions.
We'll be ready to publish this study only when we'll be totally sure that all the required prerequisites of data completeness, rigour and accuracy will be sufficiently satisfied and when all this very demanding numerical study will be discussed in a satisfactorily coherent and focussed way.
July 4, 2009
The XPOSE International Team