8th February 2000
North Shore, Lake Ontario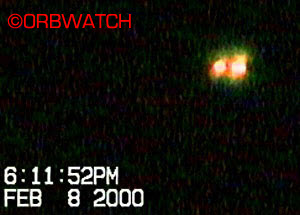 We set up the camera on the north shore at Dingle Park in Oakville. The night was rather chilly with a strong SSW wind blowing off the lake. With windchll the temperature was -11.3C.

A double light appeared at approximately 5 degrees above the horizon in the lighted area of St. Catharines. Our first "take" was that this was an aircraft approaching from the Buffalo direction. The colour was unusually deep amber/gold for aircraft lights though.

We also noticed that the movement was somewhat strange for an aircraft. If an aircraft is approaching us the lights appear extremely bright, but after turning east the lights will normally dull right down and one can just see the strobes on the aircraft.

On this occasion, the lights remained as a double configuration, apparently facing us almost directly, and maintained this appearance even whilst clearly travelling towards the east - sidewards as it were.