24th October 2002
South Shore, Lake Ontario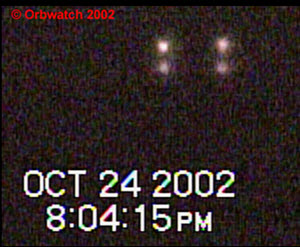 I set up the camera on the south shore in Niagara-on-the-Lake, at 19.00h. The first event occurred at 19.15h, and was an emergence similar to the night before. These continued at a rapid pace until I left the field site at approximately 20.45 hrs.

Weather conditions were more pleasant than on the 23rd. The wind was almost nil, and visibility was excellent. Temperature was approximately 2C and I was dressed in heavy winter gear.

There were only emergences, and there were multiple emergences. One orb would come out, and then be followed by another and another. In the videos listed below, aircraft (strobing white lights) can be seen passing over, left to right (west to east,) at the same time as the orbs are emerging and moving around.

I reviewed the hour or so of footage and counted 46 separate "events."



Description of Events


19.00.00
Set up.
Clear, cold night, with excellent visibility. Temperature approximately 0C. Water conditions calm. Almost no breeze. Aircraft visible taking off and landing at Pearson International Airport on East-West paths.

19.17.00
First event was an emergence. Not recorded.

19.23.15
First recorded event of the evening. Single, very red coloured orb in similar location to the previous night, the 23rd October.

19.24.55
Sony Video Camera's "Night Shot" switched on. This orb is very dull. I realise that this is not likely an orb but just a faint blob of light that remains stationary. However, it seemed that this blob of light was where all the orbs seemed to be emanating from during the evening. "Blobby" was coined. Is this a marker, maybe?

19.27.01
Orb comes up west of B ("Blobby") and moves slowly west.

19.27.36
Another orb appears to the east of B.

19.27.42
Huge bright orb appears higher up than the previous events. B now seems to be the centre of the orb emanations.

19.35.05
Very brief event similar to above, already quite high up, and west of B.

19.34.38
Orb appears east of B.

19.35.22.
Brilliant orb appears. Separation very clear as it travels west, and rises up quite considerably. "Separation" is when the orb is visibly separate from its beam/reflection.

19.37.00
Orb appears just east of B, very bright and moving west.

19.37.46
Orb appears west of B, but slightly east of the previous orb, and also moving west.

19.38.16
The two orbs timed at 19.37 are now very similar in appearance and a third orb appears from the east.

19.39.01
The more westerly orb (left hand from my point of view) brightens up considerably.

19.39.27
One passes in front of the other and they reverse positions.

19.40.18
2 more orbs appear from the east (now 3 in total visible).

19.42.28
A single orb appears, and an aircraft passes higher up, west to east.

19.47.15
2 orbs appear, one each side of B.

19.48.20
These orbs travel west, the second one slightly higher than the first. They now appear quite similar. I move the camera to centre them in the frame. Aircraft passes over west to east. Second orb (slightly higher up) overtakes the first and continues to rise.

19.50.13
2 orbs appear, travelling west. Aircraft visible above moving west to east. Change camera setting to regular from "Night Shot," to try and obtain better colour. The orbs are deep amber/red and, unfortunately, do not show up very clearly without the low-light setting on.

19.52.20
2 orbs travelling west. With regular setting on camera they are rather dim.

19.53.25
Orb emerges, moving west.

19.56.48
Orb emerges, moving west. Aircraft passes higher up, west to east.

19.59.00
Orb appears, slightly closer to Toronto skyline. Very bright but brief appearance.

20.01.08
Brilliant single orb appears.

20.03.48
2 more orbs appear, following the above single orb, travelling west.

20.07.00
Single orb appears.

20.09.00
Single orb appears.

20.10.48
Single orb appears east of B. Very bright.

20.12.00
Multiple orbs appear west. These orbs are visible approximately 4 minutes and moved around each other, changing positions.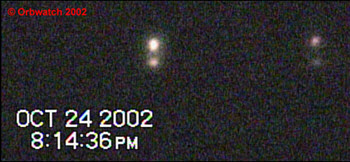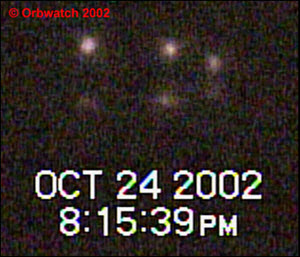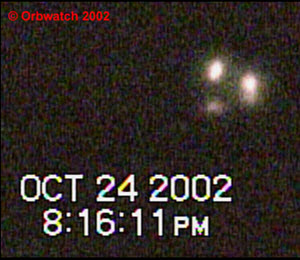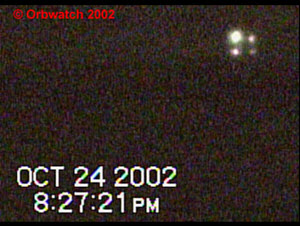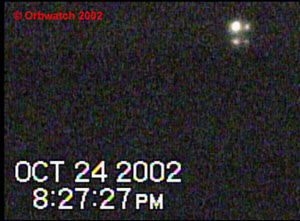 20.16.30
Single large orb appears. Very brief event.

20.17.16
2nd orb appears to the east of B. Aircraft passes higher up, west to east.

20.18.14
The above 2nd orb submerges.

20.20.07
Large orb emerges east of B. Clear separation. Aircraft passes higher up, west to east. The orb moves slowly west, rising higher as it goes.

20.21.28
Orb sneaks in from east (just out of the camera frame) of B, travelling slowly west.

20.23.01
Another orb emerges way to the right (east) of B.

20.23.11
The orb (2 previous) fades out.

20.23.17
Single orb emerges east of B, very bright and large. Aircraft passes higher up, west to east.

20.23.55
Separation occurs (above event.) The orb then continues to rise up whilst travelling west.

20.24.24
Orb emerges moving west.

20.26.33
Brilliant orb appears on horizon, west of B, then separates.

20.27.01
More orbs appear to the east. This is unprecedented. They pass around each other (almost looking like a "double.") Aircraft passes higher up, west to east. I zoom in with camera on these orbs. One continues west after the "passing around" manoeuvre.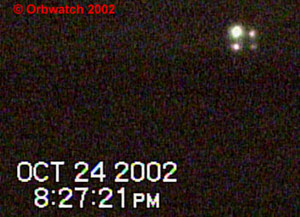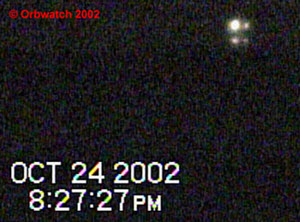 20.28.13
More faint orbs appear far right/east of where the normal emergence spot is. The previous orb (single that was moving west) rises up considerably.

20.28.38
Orb (above event) fades out.

20.34.32
Faint emergence takes place east of B, travelling west. Brightens up.

20.35.06
Another faint orb appears behind the previous one that has brightened up.

20.35.29
Another but smaller orb appears just behind the previous one. Second one flares up and they pass around each other. They both continue west.

20.36.07
One orb descends slightly, the rises up again.

20.36.30
The second orb flares up. Aircraft passes higher up, west to east.

20.37.15
Above orb seems to have stopped!

20.40.20
Orb sneaks in from the east, but fades out very quickly.

20.40.40
Packing Up Time