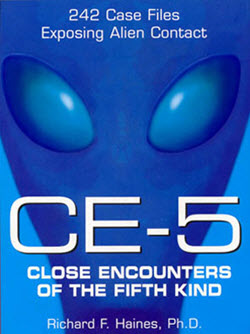 Copyright 1999 ©Richard F. Haines, Ph.D.

Sourcebooks, Inc. Naperville, IL.

ISBN 1-5707142-7-4



"CE-5: A report of deliberate human behavior which was followed by an obvious response from an unidentified object and/or humanoid.

The response of the craft or being included effects suggesting its response was not merely coincidental.

CE-5 is the ultimate reference for authentic data on the hottest topic in UFO studies. Each file probes reports where humans around the world have seen and deliberately signalled to unidentified aerial objects or beings. Sometimes the contact results in friendly interaction with the unknown. Other outcomes are more shocking, with consequences of abduction or medical examination.

Exhaustively researched and thoroughly referenced, CE-5 was compiled from technical data, research and eyewitness interviews. Enthusiasts, skeptics, and the just plain curious can quantify each case study to reach their own conclusions."