Extract from

JOURNAL UFO

Vol 1 No.3 1979

©David Haisell


Western Lake Ontario

On October 23, 1979 we had a report from one of our readers that a strange occurrence took place on the Niagara River near the Queenston Sand Dock on Sunday night, October 21 1979.
Dozens of witnesses described seeing what looked like an overturned, metallic boat (after all, what else could it have been?) floating in the river. Visibility was not the best since it was dark. but it appeared that the boat slowly submerged. Then it resurfaced, but the witnesses claimed it nowhad several people clinging to its sides. Then it suddenly sank like a rock and did not re-appear.
No boats or persons have been reported missing, but in view of the numerous witnesses the American Coast Guard is taking the incident seriously and is investigating. So is our Fortean researcher, Dwight Whalen, in view of the numerous reports of unidentified phenomenon from the west end of Lake Ontario during the last few years.
According to our reader, calls were received by radio station CFNY from various persons concerning the incident, including one from the wife of one of the witnesses. If anyone has further information we would appreciate hearing from you.
For several years an aeronautical engineer and his family and many other area residents living on Lake Ontario at the mouth of the Niagara River (about 8 miles from Queenston) have been witness to peculiarly behaving lights in the sky. The lights are sometimes very bright, like a sodium flare, and are usually in the northerly or north-easterly direction over Lake Ontario. Since distance is difficult to judge, as is altitude, the lights may even be north of the Oakville to Toronto skyline.
The witnesses are certain they are not the lights of airplanes, even though the areas where they are seen are on flight paths from Buffalo to Toronto airports, and in fact have been seen at the same time as planes are in the sky. Curiously, when a plane appears n the vicinity of one or more of these lights, the lights tend to dim until barely visible.
Their movements are random, although they eventually seem to move off together. Sometimes they are seen merging into each other (e.g. four may combine to make two,) or making right angle turns, or simply hovering for up to one hour. In one case a neighbourhood boy took a five minute time exposure revealing apparent right angle tracks.
Editor references:

Usually when these UFOs are observed, the weather is atrocious, very cold, windy, with high waves on the lake. The lights sometimes appear as if they are at water-level, but the conditions are not conducive to anyone being out on the lake at the time. In one incident, however, the weather was fine on a warm summer evening around 9:00 PM shortly after sunset. Two fishermen were in their boat several miles from shore when they were scared by the sudden appearance of one of these orange lights quite close to them. They reported that it was almost as if someone had turned a spotlight on them. They headed for home immediately.
When asked if he had seen any of these phenomena from close range the aeronautical engineer replied that he hadn't; he added that most of the observations seemed to be just distant, but very bright, round blobs of light. On one occasion, though, he and his family thought they were able to make out a solid substance with lights around it, but this was after they had been staring at it for quite a while as it "hovered," and may have been imagined.
One area resident has claimed to see solid disk-shaped objects during the day, but the engineer has had no daylight sightings. Their vantage point is ideal for looking across the lake, and the view is rarely obscured by smog or haze.

Still frame from one of our own videos taken from the north shore of Lake Ontario: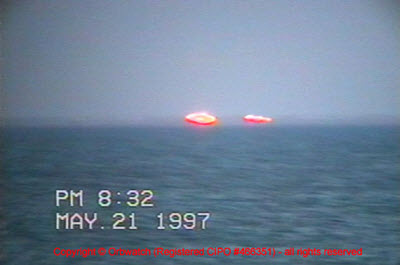 Thanks to Mr. David Haisell for permission to reproduce this material from his JOURNAL UFO.


Mr. Haisell has published a new book "A Question of Control - A UFO Revelation" The following information is from the Amazon site:


UFO investigator David A. Haisell spent over a year investigating and recording one Ontario family's bizarre experiences with UFO related phenomena which started with a seven hour period during which a young boy mysteriously went missing during a school trip in England.

This book details the events which plagued the family spanning over twenty-five years and two continents, culminating with two regressive hypnosis sessions which revealed that the boy was actually the victim of a UFO abduction during those seven hours.

The chilling account of what happened to him, and the subsequent experiences of his family upon immigrating to Canada, join the many other unexplained Canadian UFO events related in this book.

Please click on the image below for details of the book